About Us
Alternative Autoworx, LLC was started in 1998 after I had finished with a short stint at my second Subaru dealership. Starting in 1976, I worked at some really good garages and a couple of completely dishonest garages, both independent and factory dealerships. In 1998 I decided it was time to use the knowledge I had gained to start a fair priced and humbly honest garage of my own. The goal was to provide my customers with an honest alternative to the higher priced and not always trustworthy garages and dealerships. Born was "Alternative Autoworx". As my loyal customer base from all walks of life expanded, we had one thing in common. Trust. They trusted me to not perform unnecessary work and to do the job right the first time, and I trusted them to spread the word about our humble beginnings and to return to me for future auto repairs & maintenance. Fast forward 25 years and we've moved into our own new facility where we continue to provide our growing "family" with the trust they have become accustomed to. We couldn't have done it without their gracious support. A HUGE Thank You
Joel Edson
The Crew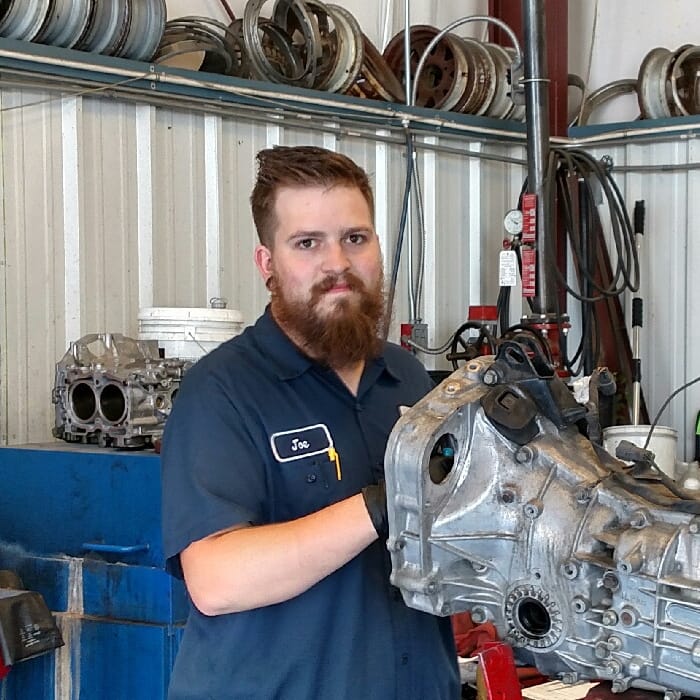 JOE MEIGS
Technician
Joe had automotive schooling before coming to Alternative Autoworx, but more important was his personal experience with Subarus. He had numerous Subarus of his own but also became an integral part of a team that assembled a high performance Impreza. After hearing more about this process, it was clear that he had the talent needed to provide our customers with quality repairs. After just a few months of just him finding his own groove he has proven to be a natural at his trade. His comfort with electrical troubleshooting is a valuable talent
BOBBY KANE
Technician
With over 20 years of experience, Bobby is a highly skilled and dependable automotive professional. He specializes in service, diagnostics, and repairs for both domestic and imported vehicles and trucks, with expertise in brakes,alignments, transmissions, electrical systems, and computer technology. By interpreting technical specifications precisely, he enhances repair accuracy, minimizes downtime, and ensures safety compliance. Bobby prioritizes continuous training to stay updated on the latest automotive advancements.
Known for his problem-solving abilities, dedication to top-quality workmanship, and exceptional customer service, Bobby has established a solid reputation as a detail-oriented mechanic. Utilizing state-of-the-art equipment, such as scan tools, lab scope diagnostic equipment, and computer software, Bobby accurately diagnoses issues and performs repairs and updates.
Bobby is a certified ASE Master Technician by the National Institute for Automotive Service Excellence. His commitment to excellence extends beyond his profession, as he served in the United States Army during Desert Storm. As a dedicated family man, Bobby embodies the values of Integrity, Trust, and Value that define Alternative Autoworxs, Inc.
GRAYSON CAPAN
Technician
Grayson joined Alternative Autoworx in October of 2022. He comes from a background of 8 years in customer service and a lifelong passion for everything automotive. Currently he drives a 2008 Accord, a 1964 Bel Air, and a 1973 Jeep Truck.
History