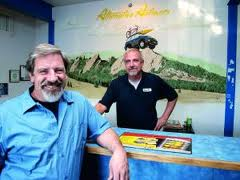 WHAT WE DO:
Independent Subaru* Specialist performing honest, quality repairs, at a fair price.
WHO WE ARE:
Alternative Autoworx started in 1998 as an alternative to high priced dealers and unspecialized independents.  Started by Joel Edson, who has over 30 years of experience in the automotive industry, of which the last 20 have been dedicated primarily to Subaru's*. His current staff have another 30 plus years of automotive experience.
---
WHERE TO FIND US:
Alternative Autoworx is  located in Broomfield, west of Highway 36, south of 120th Avenue, between Wadsworth and Main (1 and 1/2 blocks west of Teller Street)
Get Directions Here
---
MISSION STATEMENT

Our "Mission" is to provide consumers with an "Alternative" to high priced dealers and unspecialized independents for quality repairs and maintenance on one of their most valuable assets besides their home.
Some of us remember when cars were serviced at a "service" station that also sold gas. These stations were usually supported by their local neighborhood and their mechanics were generally pretty good. If they weren't, they would not last because the owner of the station would get his butt chewed in the local grocery store that next Saturday. After working for both dealerships and independents over the years, I grew to understand and relate to the frustration and distrust that comes with this trade, that is why I started my own shop, even with the high costs of operating this type of business, there's still room,to make an honest living, if you do competent work and treat your customers right they will return and possibly refer friends and family to someone they trust, their own "Neighborhood" mechanic. With our combined automotive experience of over 60 years we are committed to applying our training and knowledge towards your satisfaction.
Thank you,
Joel Edson
Owner/Proprietor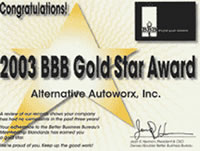 Better Business Bureau Gold Star Award Recipient since 2003